Sedge Stitch – Stitch of the Week
Join us today as we look at the sedge stitch in our Stitch of the Week series.
What's in a name?
Despite having what I think is quite a dull and uninspiring name (it reminds me of words such as 'sludge'), this stitch is far from dull!
It is a durable and attractive stitch which is worked over a 1 row repeat. This makes it easy to master and the effects are simply stunning! In case you can't tell I am a BIG fan of this stitch….
The sedge stitch is a great stitch to use whilst watching TV on an evening – once you get the hang of it, it has just the right amount of thought required whilst also allowing you to stay focussed on your favourite shows. Your eyes will adjust very quickly to where the stitches need to be worked.
Upcoming pattern alert!
The sedge stitch would make a great basis for a bag because it is a strong stitch with no big gaps and it looks fantastic… In fact we have a Susan Library tote that will be published soon which uses this very stitch! So keep your eyes peeled for that gem.
Susan wrist-warmers: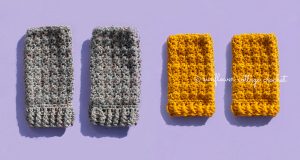 As you know we are trying to provide a simple and free pattern for each stitch of the week. This helps you to practice the stitch whilst also creating something functional and beautiful.
The free pattern that we have for you using the sedge stitch – the Susan Wrist-warmers – are surprisingly simple and have an optional cuff pattern just to finish them off. There are just a couple of measurements you need to ensure that you get the best fit: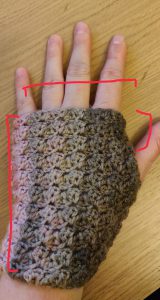 They are so simple that you will probably laugh at how easy they are! But they are so pretty …. I took a few pairs that I had made to the office for photographing a few days ago and everyone fell in love with them. Even the men tried them on! So now I have a few pairs ordered that I need to find the time to make. My daughter has claimed two of the pairs I made whilst working on this pattern for you guys. It's proving to be popular!
So it looks like these are great products to make for those winter fairs and Christmas presents.
Shall we get started?
You can find the video tutorial on how to work the sedge stitch – Susan Wrist warmers – on our YouTube channel here and the free written pattern is available in our shop here
The Sedge Stitch:
The sedge stitch has a really simple construction in that it is a repeat of *(sc, hdc and dc) in the same st and then sk2*.
It is worked using a starting chain of multiples of 3 (although this isn't the case in our pattern. I started with a row of sc which is explained in the video).
In accordance with the free pattern you work the sedge st as follows from row 2
Step 1 – ch1 (counts as a sc) (1hdc and 1 dc in same st), sk2, *(1sc, 1hdc, 1dc) in next st, sk2* until the last st where you will put a sc only. Turn.
Step 2 – repeat step 1 for as many rows as desired.
It really is that easy!
We hope that you like this pattern – we certainly do. Please feel free to share your Susan Wrist Warmers with us on our FB community page, or link as a project on Ravelry!
---